Big Surprise for 96th Birthday
Former WWII Bomber Pilot Gets a Big Surprise for his 96th Birthday.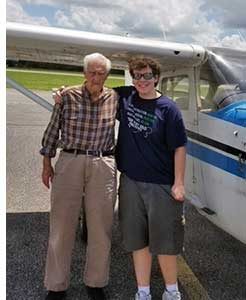 James Player of Milton, Florida, a former World War II B-24 bomber pilot took his first flight in an airplane in over 50 years. His pilot for the flight was his grandson, Zachary Player, a newly minted private pilot who had just passed his checkride on his 17th birthday less than two weeks earlier.
After looking around the cockpit of the Cessna 172 Skyhawk for a few moments, James commented that it was little smaller than he was used to in his B-24, then put on his headset and said "Let's go."
His grandson flew a scenic route over the Blackwater River, across Milton and near Whiting Field Naval Air Station, where James got a bird's eye view of his home and farm.
After the flight, James commented: "today was certainly a different day than I'm use to. I really do miss being up there." A very special thanks to CFI John Lawler and AMS Flight School for making this truly special flight possible.