AMS Flight School
Who We Are:
AMS Flight School has been under new ownership and new management since 2015. We are located at Peter Prince Field Airport (2R4) in Milton, Florida; nearby to Pensacola and Mobile, Alabama. We offer a modern training facility and our experienced instructors will provide you with an optimum training experience.
Our Mission:
Our mission is to provide quality, professional flight training to pilots. AMS Flight School believes in honesty, integrity, discipline and success. We develop exceptional and experienced pilots who will be prepared to conquer the sky. We will assist you through your journey one phase at a time.
We will train future pilots to the highest industry standards in a warm and friendly atmosphere that is conducive to learning with an emphasis on safety. Our goal is to ensure that you not only achieve all the qualifications to become a pilot, but also the skills and attitude to be a successful one!
Christopher Schultz
Chief Flight Instructor
Christopher has been in aviation since 2001 with the achievement of earning his private pilot license. He has flown UH-60 Blackhawk helicopters for the US Army with three deployments to Iraq. He has flown for Expressjet airlines in the CRJ-200. Christopher has been a CFI/CFII/MEI since 2011 and finds training is where he is best suited to guide the future of aviation.
Bill Smith
Assistant Chief Flight Instructor
Bill served on CH-53 Pavelow helicopters for the USAF until their retirement in 2008. Bill earned his instructor rating at AMS and has been instructing here ever since.
The History of Peter Prince Airport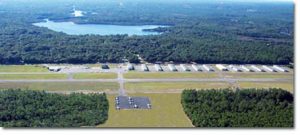 Peter Prince Airport, previously Milton "T", has been in use as an "aircraft land facility" since the early 1930's. At that time, a rotating beacon was installed by the Civil Aeronautics Administration (CAA, predecessor to the FAA) to identify an emergency landing strip to be used in conjunction with their night navigation network.
The advent of radio beam navigation was cause for the CAA to abandon the facility and for Santa Rosa County to obtain title to the original property on August 23, 1934.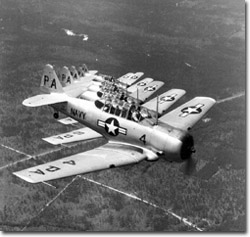 During World War II, the site of Peter Prince Airport was used as an auxiliary field by the Navy, with SNJ's doing touch and go operations on the turf runway.
During 1946-47, Mr. Donald R. Dobbins operated Milton "T" with based aircraft consisting of 13 Aeronca Champs, three multi-engine aircraft, and numerous other aircraft. In 1948, Mr. Peter Prince became the fixed base operator. The field served crop dusting operations and from 1949 to 1955 was used jointly by the Navy for primary flight training in SNJ's. At one time a parachute loft was located on the southwest corner where the CAP is now located, and parachute repacking was done there for the Air Force at Eglin. There were also extensive sky-diving operations at the field in the 1950's. In 1956, the Air Force conducted C130 feasibility testing from the short field turf runway.
Entering the Modern Age
I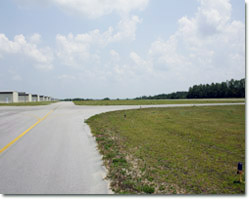 n 1968, at the instruction of the Santa Rosa County Board of County Commissioners, Runway 18-36 was designed, paved and lighted. A rotating beacon and wind tee were installed. At about this time, Mr. Bill Weaver became the FBO In 1974, the FBO passed to Mr. Earl Butts, who built a shade hangar capable of holding 15 aircraft. It was demolished by a hurricane in 1995. In 1984, Mr. Bill Smathers, George Brewer, and Sandy Rowden formed a partnership and assumed the FBO function. In 1990, three 6-unit T-hangars and a four-unit hangar for twin engine aircraft were constructed, together with a full length parallel taxiway on the east side of runway 18-36, and an apron with 21 tiedown spaces.
From Milton-T to Peter Prince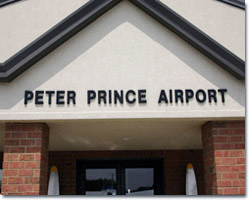 The airport was renamed Peter Prince Airport in 1991. In the 1930's Mr. Prince was a mechanic working in Massachusetts with the Granville Brothers, designers of the GeeBee racing airplane. During WWII he moved to Miami and was in charge of maintaining the fleet of Stearman training planes in that area. He was also engaged in a large banner towing business using Stearmans shortly after the war. He later moved to Foley and began a crop dusting operation, and in 1948 became the FBO at the then Milton-T airport.
In 1993, three additional 6-unit T-hangars were built. During that same year, a new partnership consisting of Carlos Diaz, Davis Glass and Earl Caudell took over the FBO function. An above ground fuel storage system containing two 10,000 fuel storage tanks was installed on the west edge of the FBO apron in November 1993. In 1996, five more 6 unit T-hangars were built, plus a large three unit commercial hangar facility. In addition, a new taxiway was installed from mid-field to the approach end of runway 18 on the west side of the runway.